posted on 10 Mar 2010 22:52 by pcichigo
Hello, my good readers!
As I mention last time that I will draw character from anime or comic to reduce the time for drawing design.
I am so excite to announce that today picture is quiet special because it is a full body character which is very hard to draw (for me of course!) but after all, the result is pretty good.
Let's say no more, I know you can not wait any longer to see the picture. So, here we go!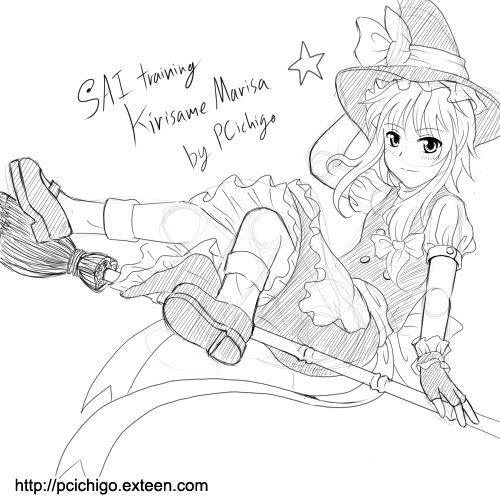 (The real image is quiet big, this is the one that I already resize)
This character is Kirisame Marisa from Touhou if you ask (but it is oblivious that the name of the entry already told, ha ha). Well, to tell you the truth, I do not know anything about this character, not even one, seriously.
Then why I draw this character you said? because it is a favorite character from one of my fan that leave the comment in my entry. I will not tell you who is he or she but you can guess by looking in older entry.
Oh, this is so exciting, who will be the next character for my SAI training?
Tell you what, it may be you!
Thank you.